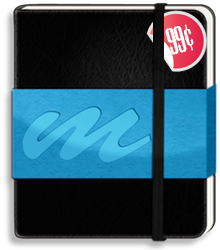 I'm taking part in AppyFridays this week. Due to the fact that changes to pricing and app updates will be unavailable from the 21st through the 28th (everyone deserves a vacation), Marked is going to be on sale all the way through Christmas. For just 99¢, you can get the Markdown love you deserve this holiday.
If you haven't heard about Marked, check out the Marked web page for details. Not to toot my own horn, but it's a must-have for any plain-text aficionado (or soon-to-be). Live previews with any editor, export options and features like automatic Table of Contents and Auto scroll to last edit all make writing plain text a pleasure.
Pick up a copy this week, it will be a dollar well spent.