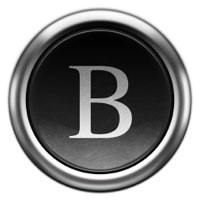 In the interest of actually getting going on app reviews on this blog, I'm mentioning a somewhat obvious one: Byword. While I still write my drafts in nvALT and do the heavy lifting and linking in TextMate with my Blogsmith Bundle, Byword has quickly become the place where I actually do my writing.
I'm not a big advocate of "distraction-free" writing. I've never found that I need it, despite my ADD and generally short attention span. The fact is that as I write I'm constantly checking facts and links in my browser, and it's mostly pointless to keep switching screens to do that. Byword is great for me because it doesn't focus solely on the distraction free aspect. Full-screen and "focus" modes are available, and it does a beautiful job with them, but it puts an equal amount of effort into just creating a pleasant atmosphere for writing. Great themes, great fonts and even some of the Markdown-specific tools (auto-pairing, wrapping and list continuation) that I'm always begging for.
Byword's developer, Jorge Pedroso, has told me that nvALT and some of my other projects were an inspiration for the Markdown features in Byword, which is hugely flattering to me. He's also released a custom stylesheet for Marked which brings Byword's beautiful styling to any Markdown document.
If you write, whether it's long-form or quick blog posts, Byword is an excellent way to do so. There's a lot of competition in this field; I've tried them all (seriously), but Byword has become my writing tool of choice on the Mac. You can pick it up on the Mac App Store for $9.99 US and it's worth every penny.