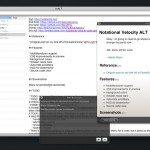 nvALT 1.0.3 has been posted for automatic updates and direct download. If you're already running nvALT (formerly Notational Velocity ALT), just go to the application menu and choose "Check for Updates" to get the latest version. Otherwise, download it from the project page.
I removed the blue background due to popular demand. Ian Soper has designed some great themes which will be available from a theme selector in an upcoming version, but for now it's basically white. I also fixed the mixed-up interface issue for French and Portuguese users by reverting the affected nibs to English-only until I finalize the interface and get the localized versions in place.
Add a few bugfixes (and hopefully not too many new bugs) and you've got the incremental release that is version 1.0.3! There are new features on the way, but I wanted to get these minor changes out for users as quickly as possible.
Changes
Darker, wider, cleaner scrollbar
Ignore parenthesis when scanning for URLs
Remove blue background
Temporarily removed affected French and Portuguese nibs
Bug fixes
nvALT v2.2.8 (128)
A fork of Notational Velocity with MultiMarkdown preview and advanced Markdown editing capabilities. Other good stuff.
Published 06/08/13.
Updated 09/19/17. Changelog