Mac App Giveaway: MultiMarkdown Composer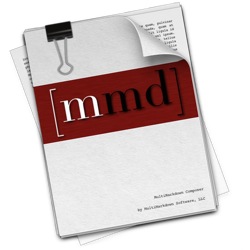 Continuing the very exciting Thanksgiving giveaways today I have five promo codes for Fletcher Penney's MultiMarkdown Composer (reviewed here). It's a text editor packed with features for editing Markdown and MultiMarkdown, including syntax highlighting, document header navigation, shortcuts for adding MultiMarkdown syntax and much more.
The latest version in development includes some really exciting new features:
A HUD panel shows a list of labels that have been defined in your document that can be used when creating links, footnotes, citations, etc. This can be used to remind yourself of which label you used previously to define an element by reference. Another HUD panel shows word, paragraph, and character counts for your documents.
A group of new key commands for selecting and moving parts of your document around without using the mouse, as well as for creating and cleaning up lists automatically.
Composer now uses UTIs to define which documents it can open/save. This will have several behind-the-scenes benefits when it comes to saving, opening, previewing, and indexing documents for Spotlight searches.
Significant improvements to responsiveness when working with long documents (e.g. using the ToC to scroll).
Improved support for font-size and font-family in stylesheets. These will help my own themes work more smoothly.
Plenty more!
Picking up a license now gets you free access to all of the new features when they're released. Comment below for a chance at one of the five licenses (App Store US $9.99). Winners will be drawn at random (by the Giveaway Robot) on Thursday, December 1st at noon.
Notification is via email, so be sure to use a valid address. It's also helpful to use a unique name (first and last preferred, but anything to help avoid duplicates) so announcements of the winners don't get the other "Rob" or "Jim" all excited, only to be disappointed when they figure out it wasn't them.
There are still a few more (very exciting) giveaways coming up over the next couple of days, so keep checking back. There's no rule against entering for all of them (once each, please, or the robot gets angry. You don't want to see him angry), so keep at it!