A cleaner HootSuite icon for Fluid/Prism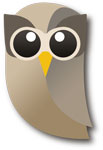 This is just a quick pointer to an icon I whipped up this evening for HootSuite. I thought I'd share it in case anyone else found the default icon packed with the Fluid SSB download (available here) unsatisfactory. Their icon is too big and looks awkward in my Dock, so I trimmed it down and vectorized the owl to clean up the lines a bit.
If you haven't tried HootSuite, it's a great social media client with a layout similar to TweetDeck. It lacks some of the features that TweetDeck has, but not too many, and it has the benefit of not crashing. Over. And over. Check it out for all your Twitter, Facebook, LinkedIn, Ping.fm, etc. needs.
Here you go: HootSuite Icon Revised