60 Mountain Lion tips on the iBookstore now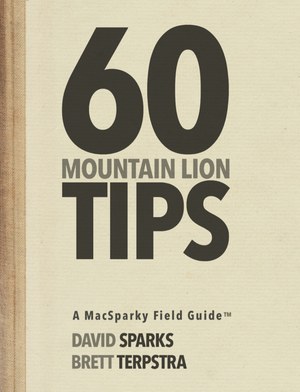 Ever since doing a Macworld talk showcasing rapid-fire Mac tips with David Sparks and Merlin Mann, David and I have been working on a book of tips, complete with screencasts and detailed explanations. Today I'm happy to present 60 Mountain Lion Tips.
The tips range from the simple but not-so-obvious up to advanced Terminal tricks. I believe there's something there for everyone. At $7, you don't have too much to lose, and there's actually a good number of tips that aren't Mountain Lion-specific. With over 50 screencasts, it's a hefty download, but the interactivity that iBooks allowed us to create makes for a very fun experience.
The book is also available as a PDF for those who don't have access to iBooks. 60 Mountain Lion Tips is being released as part of David's awesome Field Guide series.
This project was a blast and I'm looking forward to more collaborations with David in the future!
Check out the iBook/PDF, and visit http://60tips.com for more info!