What? You want QuickCal for free? Ok.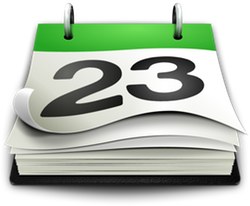 Yet another giveaway here at brettterpstra.com. We're wheeling, we're dealing… and I got you five licenses for the excellent QuickCal application for Mac (and iOS, but we're not giving those out… yet). If you haven't used it, it's a way to add events and todos to your calendar using natural language. I could say, for example, "End the QuickCal giveaway noon on Wednesday" and I'd get a new calendar event set for noon on Wednesday, October 05, 2011 with the title "End the QuickCal giveaway."
I wrote about a recent version at TUAW if you're looking for more in-depth coverage. Trust me when I say this is one of those apps that can change the way you work with your calendar. It works with iCal, BusyCal and Google Calendar and includes conflict detection and smart reminders. Leave a comment for a chance to pick up a free license! The drawing will occur on Wednesday at noon.
QuickCal has a sweet video on Vimeo if you want to watch the magic happen.