Another pit bull proves her good citizenship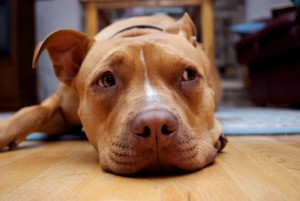 Our pit bull, Emma, passed the Canine Good Citizenship (CGC) test today. If you're not familiar, it's a 10-part behavioral test in which failing any part of the test is a total disqualification. Emma passed all 10 tests with flying colors, and I couldn't be more proud.
My wife, Aditi, gets 100% of the credit. She's a Certified Professional Dog Trainer and has worked with the ASPCA doing dog assessments on military bases where they've instituted breed bans. She's been working with Emma since we first adopted her a few years ago. She recently took her through somebody else's class and then through the CGC test this evening. I do what I can, but not nearly enough. Nonetheless, I get coated in slobbery love daily.
So, here's to Emma. May she live out her life as an ambassador for a maligned breed. In the meantime, we continue to run Minnesota Pit Stop, assessing and placing lost and surrendered pit bulls one at a time.
Check out Emma on Flickr. And don't miss this shot: Emma balancing a full wine glass on her head. No strings.